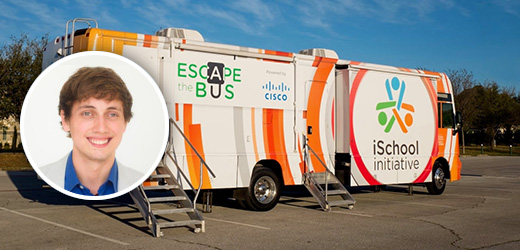 Meet Our Keynote and Escape the Bus!
We are excited to announce that our keynote speaker for the 2019 SJCOE Tech Summit is Travis Allen, the president and founder of the iSchool Initiative, a growing organization devoted to helping schools embrace technology and create a positive culture of lifelong learning.
The iSchool Initiative is also known for providing Escape the Bus to schools across the United States. An escape room on wheels, the bus challenges educators to flex their critical-thinking, communication, collaboration, and creative skills while learning about educational strategies and technology they could put to use in the classroom. Escape the Bus will be available as breakout sessions throughout the day at the Tech Summit. Session space is limited.
Travis Allen is quickly becoming one of the most influential leaders of the emerging digital learning movement. A young visionary promoting technology and, he created a viral YouTube video on revolutionizing education in America through the use of mobile technology while he was still in high school. He founded the iSchool Initiative as a college student and has presented in over 45 states and 11 countries, allowing him to reach an audience of more than 300,000 people.
---
Build Your Digital Community
The SJCOE Tech Summit is where teachers, administrators, curriculum leaders, and IT staff members come together to learn how to incorporate more technology in the classroom.
The theme of the Fourth Annual Tech Summit is "Digital Block Party," which puts a focus on building educational communities. Tech is a tool that helps students work together in the classroom, allows educators to collaborate with one another, and connects students to the world around them. Together we can learn how to build safe educational communities through knowledge of powerful technology and how to be a responsible digital citizen.
The summit will be held on Saturday, Sept. 14, at the San Joaquin County Office of Education's Wentworth Education Center, 2707 Transworld Dr., Stockton, CA 95206.
We hope you can make it. It won't be a party without you.
---
Register early, get a free T-shirt
Attendees who register by June 30 will get an official SJCOE Tech Summit T-shirt included for free with registration fee. Register early to take advantage of this offer!
If you register early, you also get first pick for breakout sessions when they become available. This includes our popular "Make and Take" sessions, where you get to leave with some technology you can bring back with you to the classroom.
Web Version | Unsubscribe