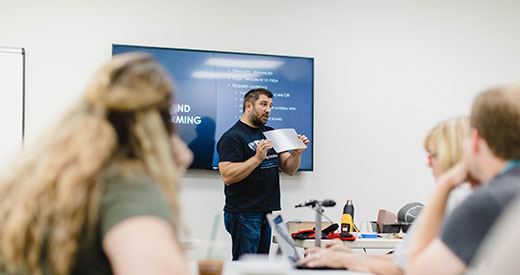 Session Sign-up Available Online
The SJCOE Tech Summit offers a wide selection of instructional and hands-on sessions lead by industry experts and classroom educators demonstrating new and exciting ways to bring more technology into the classroom. Session descriptions are now available online at http://sjcoetechsummit.org. Space is limited, so register today and start building your schedule.
Sessions range from informational presentations to our popular "Make and Take" workshops, where attendees leave with valuable tech they can bring back with them to the classroom. A selection of the sessions at the Fourth Annual SJCOE Tech Summit will fall into this year's "Digital Block Party" theme, which puts a focus on building educational communities.
Here is a sampling of sessions available at the 2019 SJCOE Tech Summit:
Creating & Integrating a Culture of Digital Citizenship
Powerful and Rare Google Tools
Badge Up with the Digital Badge Basics
Opening Your Classroom to the World
Engaging Assessment Using Screencasting and Flipgrid
Be Proactive: Using SEL and Digital Citizenship to Prevent Digital Drama
Engineering in Elementary with 3Doodler
Escape the Bus
---
Session Highlight: PocketLabs
PocketLab sensors allow students to measure and record data in real-time and then use that data to produce lab reports or future investigations. An eighth-grade science teacher from Tracy Unified School District's Art Freiler Elementary School and a member of the California Science Teachers Association Board of Directors, Maralee Thorburn will share how she uses these sensors with bottle rockets and other experiments with her students.
She will also show how students can use a free phone app to pair with the devices, which can measure acceleration, angular velocity, magnetic field, barometric pressure, and more. Educators at the Tech Summit who sign up for this session will be able to get a hands-on feel for what these devices can do for their students.
---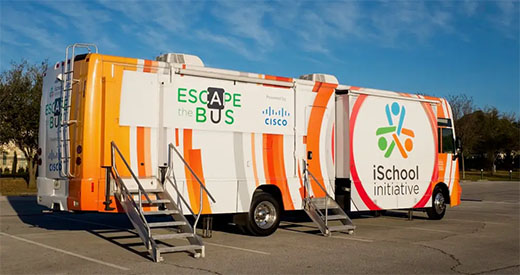 Reserve Your Place on the Escape Bus
We are excited to welcome keynote speaker Travis Allen, the president and founder of the iSchool Initiative, a growing organization devoted to helping schools embrace technology and create a positive culture of lifelong learning.
The iSchool Initiative is also known for providing Escape the Bus to schools across the United States. An escape room on wheels, the bus challenges educators to flex their critical-thinking, communication, collaboration, and creative skills while learning about educational strategies and technology they could put to use in the classroom. Escape the Bus will be available as breakout sessions throughout the day at the Tech Summit. Session space is limited.
Travis Allen is quickly becoming one of the most influential leaders of the emerging digital learning movement. A young visionary promoting technology, he created a viral YouTube video on revolutionizing education in America through the use of mobile technology while he was still in high school. He founded the iSchool Initiative as a college student and has presented in over 45 states and 11 countries, allowing him to reach an audience of more than 300,000 people.
Web Version | Unsubscribe