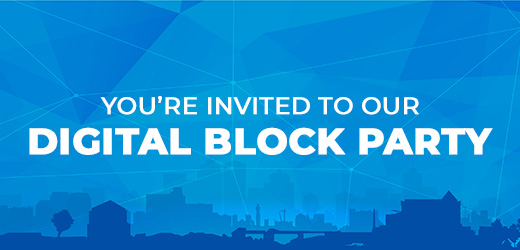 Join the Digital Block Party!
Save the date for the SJCOE Tech Summit on Sept. 14. We are looking forward to our fourth year offering this opportunity for educators interested in exploring technology and how to incorporate it in the classroom.
Together, we can learn all sorts of new ways to build educational communities with technology. Tech is a tool that helps students work together in the classroom, allows educators to collaborate with one another, and connects students to the world around them. And together we can learn how to build safe educational communities through knowledge of powerful technology and how to be a responsible digital citizen.
And what better way to build a community than to throw a party? Hence the theme of the Fourth Annual Tech Summit: Digital Block Party. Of course, it will include the same kinds of hands-on and breakout sessions you expect from the Tech Summit. Tech experts and your own colleagues will be back to offer a wide array of instructional and hands-on sessions designed to help you use technology to improve and expand student understanding and learning in the classroom.
---
Let us know what you think
In the spirit of community, please let us know how we can make this year's event better. Now's the time to let us know what kinds of sessions you'd like to see on the schedule and to make sure you get the most out of your Tech Summit experience. Contact us with your questions and suggestions.
---
Become a presenter
Also, please let us know if you would like to share your expertise or experiences with digital citizenship or using technology to build learning communities by presenting at the next Tech Summit. There is so much new technology expanding the possibilities of engagement and participation for students. If you have a new website that will enable teacher innovation, a new affordable technology you think everyone should have in their classroom, or just a novel way to present a simple tool that can enhance the digital community classroom -- please let us know. Attendees really appreciate hearing from presenters with classroom experience.
Attendee registration coming soon! Whether you plan to come as an attendee or as a presenter, we hope you can make it. It won't be a party without you.